Doctor Who Wins TV 60 Award!!
You are visitor number since November 6th, 1996.
Doctor Who simply destroyed the opposition which included Eastenders, Casualty and All Creatures. Surely the Beeb must bring back Doctor Who now!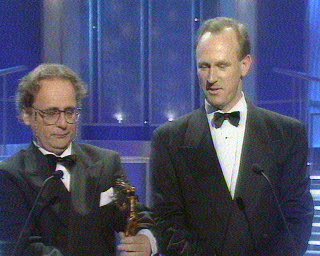 Peter and Sylv collect the award
And theres a zipped .wav of their acceptence speech here
And if you think Who's victory justifys a new series, email Anne Robinson at the BBC viewer feedback TV show Points of View at pov@bbc.co.uk. You can also email vlc@bbc.co.uk who are the Viewer and Listener Correspondence people at the Beeb.
---

Last updated on the 6th of November 1996. Soldeed says "You fools, this page is (c)opyright 1996 Marcus Durham".